The Similan Islands are situated 60 NM North West of Phuket, and are a protected National Marine Park. The crystal blue clear waters are teeming with wildlife, with Turtles, Manta Rays and hundreds of different species of fish.
Overview
The nine islands, numbered 1-9 from a South to North direction have hundreds of bays with talcum powder like sand beaches whilst below the surface the coral is amazing and the islands are ranked in the top 10 dive sites in the world. Only two of the islands (numbers 4 and 8) are inhabited by the park rangers and on these two islands you can set foot ashore and explore. The islands are covered with lush green forests, with gigantic granite boulders covering the islands running right down to the beaches.

A 3-day excursion is a prefect amount of time to explore all the islands and the seas surrounding them. There is no greater feeling than waking up in the morning with the sun rising over your own private piece of paradise. For guests looking for a bit of action we can also offer the options for some fishing depending on the vessel selected, with the waters offering great chances to catch some fish for your evening meals.
Please Note
The Similan Islands are only open between October and April due to sea conditions
The Similan Islands are a protected National Park and it is illegal to fish within a 3 NM radius of the islands
Itinerary
This is a sample itinerary.
All our trips can be fully modified to your own liking.
Drop us a note or give us a call to explore all the options.
Arrival at the Wahoo office
Guests arrive at the Wahoo office and a welcome drink will be served.
Departure for the Similan Islands
Depart for the Similan Islands. The journey to Island 1 takes around 4 hours.
Lunch
Arrival at Island 1 in time for Lunch, which will be prepared by the crew as you get your first chance of a swim and snorkel.
Fishing and snorkeling
During the rest of the day we will continue to discover more secluded bays and stop for swimming and snorkeling.
Dinner and relaxing
We will end the day mooring at Island 4. Dinner will be prepared here and guests can enjoy the sun setting with a refreshing cocktail.
Breakfast
Breakfast is served on board.
Breakfast
Upon waking a leisurely breakfast is served on board, and a morning swim is a great option as well as exploring the walking paths on the island.
Departure for Island 9
We will begin the journey up to Island 9 passing a number of the islands en-route, stopping on request at any areas of interest for the guests. Upon arrival at Island 9, the boat will moor up and guests can spend time relaxing before lunch.
Lunch
Lunch will be served by the crew at one of the magical locations.
Departure for Island 8
We will begin to make our way back to Island 8 which will be our place to moor for the evening. Upon arrival at Island 8, guests can explore the islands walking paths and have plenty of time to swim and snorkel over the amazing coral.
Arrival at Island 8, dinner and relaxing
The crew will prepare the boat for the evening and dinner will be served on request.
Breakfast
Breakfast is served on board.
Breakfast and a swim
Upon waking a leisurely breakfast will be prepared on board and a morning swim is a great option.
Departure for Phuket
We will begin to make our return journey back to Phuket, passing a number of islands as we go. Arriving at Island 4 for one last swim and snorkel.
Lunch
Lunch is prepared and served on board.
Departure to Chalong pier from Island 4
We will depart Island 4 and make our journey back to Ao Chalong pier.
Arrival at Chalong
Arrival back at Ao Chalong pier, where the mini-van will be waiting to transport guests back to their accommodation.
Rates
| Vessel | Rate |
| --- | --- |
| November - February | |
| Reel Blue | ฿297,000 |
| Double Issue | ฿627,000 |
Available vessels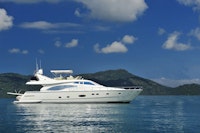 Guests - Day trip: 24
Guests - Overnight: 6
From: ฿169,000
per day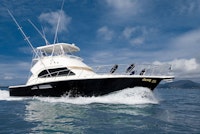 Guests - Day trip: 14
Guests - Overnight: 6
From: ฿47,400
per day
Make a booking
+66 76 641 078
info@wahoo.ws
Request a quote