Phang Nga Bay National Park is a stunning cruising destination with hundreds of Islands and huge limestone cliff formations magically bursting out of the shallow waters. Situated 22 NM North from our base in Ao Chalong. The most famous landmark in the bay is Koh Tapu, better know as James Bond Island. It was here that scenes from the movie 'The Man with the golden gun' were filmed.
Overview
The journey from Chalong means we pass Koh Hong, a fantastic island where it is possible to kayak into a stunning internal emeraled green Lagoon, and also Koh Panak an island with sea caves, which at low tide are also possible to explore during low tide.
After exploring James Bond Island it is possible to travel further north to Koh Panyee, aboard a rented longtail boat, and visit the sea gypsy village. In the bay there are a number of smaller islands with their small beaches, which a good for swimming, however the most popular option is Koh Naka, which is visited easiest on the return journey to Chalong.

Phang Nga bay is situated between Phuket and Krabi province on the mainland, meaning it is sheltered from the seasonal monsoon winds making it an ideal cruising destination all year through.
Itinerary
This is a sample itinerary.
All our trips can be fully modified to your own liking.
Drop us a note or give us a call to explore all the options.
Arrivat at Wahoo offices
Guests arrive at the Wahoo office and a welcome drink will be served
Departure for Koh Hong
Guests will be invited board their boat, as we begin the journey North to Phang Nga bay
Arrival at Koh Hong
We arrive at Koh Hong, and guests can disembark and take a guided kayak tour of the island and internal lagoon.
Departure for James Bond island
We continue up to James Bond Island and upon arrival guests will be transferred to the Island to explore. If they wish guests can arrange to visit Koh Panyee from James Bond Island.
Lunch
Lunch Will be prepared for guests and served upon arrival back to the boat.
Departure towards Phuket
We will leave James Bond Island heading back towards Phuket cruising the islands as we go.
Swimming
As we head back we'll be on the look out for one of the many islands suitable for swimming allowing our guest for some time in the water.
Departure for Chalong
We continue our journey back to Ao Chalong.
Arrival & transfer
Arrival back at Chalong pier, where the transfer van will be waiting to transport guests back to their accommodation.
Rates
Vessel
Rate
November - February
Double Issue
฿209,000
Reel Blue
฿99,000
March - October
Double Issue
฿129,000
Reel Blue
฿47,400
฿79,000
Please note:
Discounted price valid on bookings for June and July 2020
Discounted price valid on bookings booked before 15 July 2015
Discounted price valid for guests residing in Thailand only
Non-discounted prices valid through 2020
Included
2 crew members (captain and deckhand)
Bottled water
Snorkeling equipment
Use of the dinghy for beach transfers
Fresh towels
Port fees
National Park fees (if needed)
Insurance
Boat fuel
Available vessels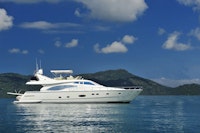 Guests - Day trip: 24
Guests - Overnight: 6
From: ฿169,000
per day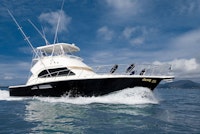 Guests - Day trip: 14
Guests - Overnight: 6
From: ฿47,400
per day
Make a booking
+66 76 641 078
info@wahoo.ws
Request a quote