Koh Racha consists of 2 islands situated only 9.7 NM south of Phuket making them easily accessible for day charters, but at the same time provide some incredibly rewarding fishing action. The islands also house some beautiful bays with excellent coral making them perfect for a swim and snorkel if guests wish to test the warm Phuket waters.
Overview
The fishing season runs throughout the year in Phuket, however the High Season (November - April) is the best time for Sailfish, Tuna, and Mackerel, whilst the South West Monsoon Season (April - November) also sees the arrival of the Dorado and Wahoo.
Trolling is the most popular form of fishing here, and common catches around the islands include Sailfish, Wahoo, Dorado (Mahi Mahi), Barracuda and multitudes of Skipjack, Longtail and Kawa Kawa Tuna.
Jigging off the small sea mountain to the south of Racha Noi produces good results whilst during June and July, when there is an abundance of bait fish, popping for GT's is possible.
For guests interested in bottom fishing we also have locations where we can fish for Snapper and Grouper.
Itinerary
This is a sample itinerary.
All our trips can be fully modified to your own liking.
Drop us a note or give us a call to explore all the options.
Arrival at office
Guests arrive at the Wahoo office and a welcome drink will be served.
Departure to Koh Racha Noi
Depart for Koh Racha Noi and the fishing grounds south of the island. The crew will put out the lines approximately 30-45 minutes after departure.
Lunch and snorkelling
We will moor in a sheltered bay, whilst the crew prepare and serve lunch. Guests can take this time to swim and snorkel.
Departure from Koh Racha Noi and fishing
We depart Racha Noi and immediately put out the lines as we head for Racha Yai and the sailfish grounds.
Departure from Racha Yai and fishing
We depart from Racha Yai heading back to Chalong, fishing as we go, until approximately 30 mins from port.
Arrival at Chalong pier and transfer
Arrival back at Chalong pier, where the transfer van will be waiting to transport guests back to their accommodation.
Rates
Vessel
Rate
November - February
Wahoo IV - 6 Guests
฿21,500
Reel Blue
฿109,000
March - October
Wahoo IV - 6 Guests
฿12,900
฿21,500
Reel Blue
฿53,400
฿89,000
Please note:
For the full day fishing charter on Reel Hooker and Wahoo IV extra guests are charged ฿2,000 per person.
Discounted price valid on bookings for June and July 2020
Discounted price valid on bookings booked before 15 July 2015
Discounted price valid for guests residing in Thailand only
Non-discounted prices valid through 2020
Included
3 crew members (captain, fishing guide and deckhand)
Bottled water
Fishing equipment (Rods, lines, bait, teasers)
Snorkeling equipment
Fresh towels
Port fees
National Park fees (if needed)
Insurance
Boat fuel
Available vessels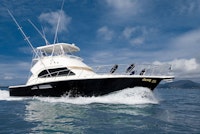 Guests - Day trip: 14
Guests - Overnight: 6
From: ฿47,400
per day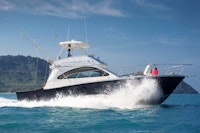 Guests - Day trip: 10
Guests - Overnight: 4
From: ฿69,000
per day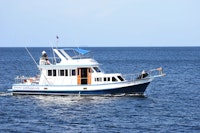 Guests - Day trip: 8
Guests - Overnight: -
From: ฿12,900
per day
Make a booking
+66 76 641 078
info@wahoo.ws
Request a quote