Coral Island is just 20 minutes ride from Chalong and ideal for a day trip. There are 2 stunning sandy beaches and the coral reefs from which the island takes its name provide excellent snorkeling opportunities.
Overview
We have 2 preferred moorings around the island, if guests wish to visit the beach, we recommend the quieter Banana Beach. A small Thai restaurant serves great Thai food, and right in front is a roped off swimming area, a great safe area for children to swim and feed the fish. Around sunset, it is also common to see the local Hornbill population returning to roost. On the island there is also a great nature trail walk through the rain forest allowing you to traverse the island to a secret stony beach.
An alternative mooring location is on the backside of the island, whilst lacking in a good sized beach, it is here where the best coral can be found. This location is also much less crowded than the front side beaches.
Itinerary
This is a sample itinerary.
All our trips can be fully modified to your own liking.
Drop us a note or give us a call to explore all the options.
Departure from Chalong pier
Depart Ao Chalong pier to head for Coral Island
Arrival at north side beach
Arrive at north side beach – Enjoy swimming and Snorkelling. Private land transfer across the deserted island to the day retreat
Lunch
Lunch is served at the retreat
More fun
Continue to enjoy private beach and facilities
Departure
Depart back for Ao Chalong
Arrival at Chalong pier & transfer
Transfer back to your accommodation
Rates
Vessel
Rate
November - February
Reel Blue - 4 hours
-
Reel Blue - 8 hours
฿99,000
Double Issue - 4 hours
-
Double Issue - 8 hours
฿209,000
March - October
Reel Blue - 4 hours
฿69,000
Reel Blue - 8 hours
฿47,400
฿79,000
Double Issue - 4 hours
฿129,000
Double Issue - 8 hours
฿169,000
Please note:
Discounted price valid on bookings for June and July 2020
Discounted price valid on bookings booked before 15 July 2015
Discounted price valid for guests residing in Thailand only
Non-discounted prices valid through 2020
Included
2 crew members (captain and deckhand)
Bottled water
Snorkeling equipment
Use of the dinghy for beach transfers
Fresh towels
Port fees
National Park fees (if needed)
Insurance
Boat fuel
Available vessels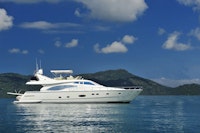 Guests - Day trip: 24
Guests - Overnight: 6
From: ฿169,000
per day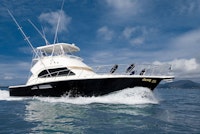 Guests - Day trip: 14
Guests - Overnight: 6
From: ฿47,400
per day
Make a booking
+66 76 641 078
info@wahoo.ws
Request a quote